Emilio F. Aguinaldo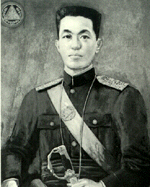 First President
First Philippine Republic
1898-1901

"We may lose hope in winning this battle for freedom because of inadequate force in terms of weapon, but one thing is never lost, our dream to die for the cause of true independence."

Emilio Aguinaldo was born in Kawit, Cavite, on March 22 1869. He studied in his hometown for his primary education and proceeded secondary education at the Colegio de San Juan de Letran in Manila. When he was orphaned at the age of 13, he was unable to finish his education.

Years later, his political career began. He was appointed cabeza de barangay (village chief). On January 1895, he became Cavite's first municipal mayor and after three months, he became a member of the secret society, the Katipunan. He became the head of the Magdalo faction.

He established his military prowess by leading his forces to win in Kawit, Imus and Binakayan, Cavite. Due to inadequate reinforcements, Aguinaldo was forced to retreat to Biak-na-Bato in Bulacan. He became the first President of the First Philippine Republic, the first republic in Asia. He was the president when the country was at war. After a pact made with the Spaniards, he agreed to go to Hong Kong in exile where he received indemnity money which he used to buy firearms.

When the Spanish-American War reached the Philippines, the Americans asked for his help because they lacked ground troops. After the Americans won, he returned to proclaim Philippine independence on June 12, 1898, in Kawit, Cavite.

However, due to a conflict of interests, another war began. This time it was between the Philippines and the Americans. Due to superior weapons, Aguinaldo was forced to flee to Palanan, Isabela. He was captured by General Frederick Funston.

He ran for presidency in 1935 where he lost to Manuel Quezon. He died of coronary thrombosis at the age of 95 on February 6, 1964.


* * * * *

Back