Andres Bonifacio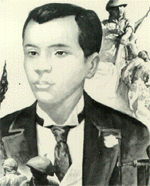 The Great Plebeian and Founder of the Katipunan
November 30, 1863 - May 10, 1897

Andres Bonifacio was born to Santiago Bonifacio and Catalina de Castro a Spanish mestiza in a shack in Tondo, Manila on November 30, 1863.

He started his early education in the school of Guillermo Osmeņa of Cebu. He reached only primary school, at the age of 14 his father and mother died, forcing him to quit his studies and to look after his younger brothers and sisters. As a means of support, he had them help him make wood canes and paper fans, which he sold in the streets.

Having learned how to read and write, he became a clerk messenger of Fleeming and Company, a business firm dealing with rattan, tar and other articles of trade. Because of his industry he was promoted as agent. But his earnings were still not sufficient to support the orphans. He moved to Fressell and company as an agent. He showed such determination and industry in his job that made him hold it. He supplemented his low educationg through reading and self study. Among the few books he read were Rizal's novels, the lives of President, Victor Hugo's Les Miserables, the ruins of Palmyra and French Revolution. Those books prodded his spirit of rebellion to act and gave him impulse to organise the Katipunan.

* * * * *

Back