Melchora Aquino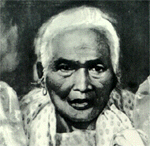 Tandang Sora
The Grand Old Woman of Balintawak
1812 - 1919

Born in Banilad, Caloocan, on January 6, 1812, Melchora Aquino is known as Tandang Sora in Philippine history because she was already old when the Philippine Revolution broke out in 1896. She had never gone to school and very little is known about her parents save that they were poor hardworking parents.

Tandang Sora was tending a small sarisari (variety) store in Balintawak when Andres Bonifacio and the other Katipuneros staged the First Cry of Balintawak that started the Philippine Revolution. Her store became a refuge for sick and wounded Katipuneros whom the old lady led, treated and encouraged with her motherly advise and prayers. Thus, she was aptly called the "Mother of Katipunan." When the Spaniards learned about her activities, she was arrested and deported to Marianas. When the Americans took possession of the Philippines in 1898, Tandang Sora, like the other exiles returned to the Philippines poor, and aging. For a time she lived with her daughter Saturnina.

On March 2, 1919, she died at the age of 107.


* * * * *

Back