Fidel V. Ramos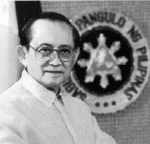 Eight President
Third Philippine Republic
July 1, 1992 to June 30, 1998



"This is the challenge to our leadership today: that we cast away the politics that divides us and work together instead for the common good and the national welfare."

Fidel Ramos is well-known for initiating the EDSA Revolution with Juan Ponce Enrile. He was endorsed by former President Corazon Aquino for presidency.

Ramos was 64 years old when he became president of the Philippines. He completed his studies in different disciplines at the US Military Academy West Point, University of Illinois, Ateneo de Manila University and National Defense College in Pangasinan. Most of his years was spent serving in the military.

As president, he pursued the conduct of peace talks between opposing bodies, gave more emphasis on building economic and political ties with the world, and traveled into different countries to attract foreign investors.


* * * * *

Back