Dr. Jose Rizal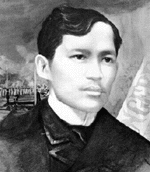 Philippine National Hero
June 19, 1861 - December 30, 1896

Jose Protacio Rizal our National hero, was born in Calamba Laguna on June 19, 1861 to Francisco Mercado and Teodora Alonzo.

With his mother as his first teacher, he began his early education at home and continued it in Biņan, Laguna. He finished Bachiler en Artes at the Ateneo de Manila on March 23, 1876 with highest honors. In 1877 he took up medicine at the University of Sto. Tomas and surveying in 1885 at the Central University of Madrid. In Europe, he took graduate studies in Paris and Heidelberg. He learned to read and write different languages including Greek and Latin.

Rizal's two book the Noli Me Tangere and El Filibusterismo made him a mark man for Spanish friars this books exposed the cruelties of friars in the Philippines the defects of the Spanish administration, and the vices of the clergy.

He returned to the Philippines in June 1892 and on July 3 founded La Liga Filipina. Aimed to unite the Filipinos and to promote progress through commerce, industry and agriculture.

On July 6, 1892 he was imprisoned in Fort Santiago, on July 14, he was exiled to Dapitan where he stayed for four up the school and making the place safe and beautiful.

Rizal was arrested on September 3 on his way to Cuba to serve as volunteer surgeon and sent back to the Philippines. On November 3 he was jailed for the second time in Fort Santiago.

On December 26, 1896 after a mock trial, Rizal was sentenced to die. Alleged for spreading the ideals of the revolution. he was shot at Bagumbayan, now the Luneta in Manila on December 30, 1896 a man of many accomplishments. A polyglot, a novelist, a poet, a scholar, a scientist, a doctor, a painter, an educator, and reformer. Before his end came he left to them his greatest patriotic poem. Mi Ultimo A Dios to serve as an inspiration for succeeding generations.


* * * * *

Back