Antonio Luna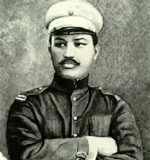 Greatest General of the Revolution
October 29, 1866 - June 5, 1899

General Antonio Luna was born in Binondo, Manila on October 29, 1886 to Joaquin Luna de San Pedro and Laureana Novico. He was the youngest of the seven children.

A pharmacist by profession and military officer by force of circumstances, Antonio started learning at the age of six in a private school. Two years later he transferred to the Ateneo Municipal de Manila and in 1891 obtained his Bachelor of Arts degree. He enrolled at the University of Barcelona where he finished with the degree if Licenciate in Pharmacy. He continued his studies in the University of Madrid and obtained his Doctor of Pharmacy in 1890. Antonio was also a man of letters, at the age of 19 he won first prize in a literary competition with his competition in titled Dos Cuerpos Fundamentales de la Quicama. He also wrote articles for La Independencia a new paper he founded and edited. He had been a contributor to various periodicals and magazines local and international such as El Siglo Medico, La Farmacia Espanola, La Ilustracion Filipina and La Revisita Parmaceutica.

Soon after the outbreak of the revolution, Luna was suspected of being a Filibuster. He was arrested and tried in September 1896 and in 1897 sent to Spain as an exile. Through the influence of his brother Juan. The well known painter, he proceeded to Ghent, Belgium and studied military science. Gen. Aguinaldo appointed him director of war and commanding general of the army with the rank of Brigadier General. At Cabanatuan, Nueva Ecija in answer to General Emilio Aguinaldo's summons for a supposed conference. He was assassinated there on June 5, 1899.


* * * * *

Back