Emilio Jacinto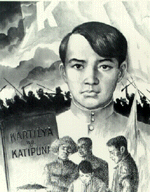 Brains of the Katipunan
December 15, 1875 - April 16, 1899

It was his sad experiences with his Spanish classmates and sensitivity to the plight of the Filipinos as caused by the injustices of the Spaniards that led Emilio Jacinto to become a Katipunero.

Born in Trozo, Manila on December 15, 1875, Jacinto's early education was supported by his widowed mother who worked as a midwife. Later on, his uncle enrolled him at the San Juan Letran College after which he took Law at the University of Santo Tomas.

It was the need to join the Katipunan that interrupted the young man's studies as he was only 19 years old when he joined it. Even at that young age, he became one of the ablest leaders of the movement. To Bonifacio, he was an adviser, a secretary and a fiscal. A gifted writer, Jacinto was also the editor of "Ang Kalayaan," the movement's newspaper. He also wrote the "Kartilla," its primer containing the movement's rules and regulations. Also a poet, he wrote "A La Patria," which was inspired by Dr. Jose Rizal's "Mi Ultimo Adios," under the pen name of Dimas Law. He also supervised the manufacture of gunpowder. Thus, the title of "Brains of the Katipunan" was bestowed on him.

Alas, like most heroes, his life has to be taken while serving his fellow countrymen. Jacinto, mortally wounded in one of the battles in Majayjay, Laguna died on April 16, 1899 at the age of 24.


* * * * *

Back