Diosdado P. Macapagal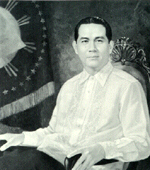 Fifth President
Third Philippine Republic
December 30, 1961 - December 30, 1965

"The strength of the nation lies in the well-being of the common man."

Diosdado Macapagal was 52 years old when he became president of the Philippines. A native of Pampanga, he came to Manila to pursue advancement in education and graduated with Bachelor of Laws in University of Santo Tomas.

Prior to presidency, he held two government positions. He was elected congressman for two consecutive terms (1949-54, 1954-57) and served as vice president to Carlos P. Garcia in 1957. He ran against Garcia on the next election and won.

Among Macapagal's projects were the enactment of the land reform law, the enactment of the Agrarian Reform Code which states the abolition of the share-cropping tenancy and the replacement of lease-hold-system, and the formation of MAPHILINDO (Malaysia, Philippines, Indonesia). He had also completed the negotiations regarding US Bases which had started during Magsaysay's term. He was responsible for shortening their stay to 25 years, predicting 1991 as the year of expiration.

His administration lasted for one term. He ran for reelection but lost to Ferdinand Marcos.


* * * * *

Back